Known as the Mead Moon, Honey Moon, Full Strawberry Moon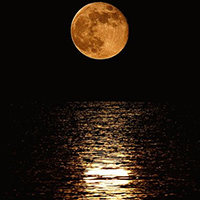 The Sun is in mental Gemini the journalist and the teacher; the Moon is in optimistic Sagittarius, the philosopher and the preacher. Brainy Gemini represents the literal mind and is concerned with gathering and sharing information. The archer rules the higher mind and seeks to interpret and process knowledge. Gemini can get lost in the details; Sadge can vanish in the clouds. When working in harmony these two signs blend the mind with imagination to create a kind of alchemy. This Full Moon invites us to examine our thinking and our beliefs and look at how they influence our reality.
All Full Moons are intense but this one is super charged. It coincides with the third grand-square involving Mars, Jupiter, Uranus and Pluto which peaks June 14-25. The first one took place on December 17, 2013; the second one on April 20-22, 2014 during the 5th exact square of Uranus/Pluto. Currently Jupiter in Cancer is moving away from its involvement with the grand square but explosive Mars is revving up; on June 14 it will challenge Pluto; on June 25 it confronts Uranus. In a sense we're all in "recovery" right now. It's a scary time; it's a sacred time. Something has reached a breaking point and we're ready to make a shift. What have you been dealing with these past six months; what do you need to release in order to move forward?
Loving Venus in Taurus is opposite stern Saturn in Scorpio urging us to create healthy boundaries. Is there a situation where you have given away your power or self-worth? Now is the time to call it back and claim what is yours. Mercury is currently retrograde; be cautious about believing your own press. Get a reality check. Tell the truth but do so kindly.
"The truth will set you free but first it will piss you off." –Gloria Steinem
Madam Secretary is a compelling new drama from CBS which debuts this fall. Tea Leoni stars as a pragmatic yet maverick Secretary of State. Her former mentor at the CIA tells her, "You don't think outside the box; you don't even know there is a box."  That's the message for this potent Full Moon. Have the courage to challenge your own thinking, ask for feedback, be teachable and let go of what is no longer working – then take a giant leap in the direction of your dreams.
"I know that nothing has ever been real without my beholding it. All becoming has needed me. My looking ripens things and they come towards me, to meet and be met." Rainer Maria Rilke