The Aries New Moon – March 27, 2017
A New Moon is always a cause for celebration but the one in Aries is extra special. Fiery Aries is the first sign of the zodiac known for its boldness, courage, and confidence. Like the hero or heroine setting off on a quest Aries brings a sense of possibility and adventure. Even when it's still cold and damp outside there's the promise of warmer days and the anticipation of lush flowers, blue skies, and new beginnings. It is spring; all life is renewed and we are reborn.
Loving Venus, in Aries, is conjunct the Sun and Moon activating our deepest desires and inspiring us to reach for the stars. New Moons are fresh starts. What do you want to create, bring forth, and manifest? It's time to put something in motion but carefully. Why carefully? Venus is still retrograde (through April 15) so we may have to let go of something first before we can move forward. In fact, this entire Venus retrograde period is an opportunity for cleaning, clearing, releasing and healing whatever has been holding us back, especially in those Venus ruled areas of love, beauty, finances and self-worth.
Not only is the Sun, Moon, and Venus in early Aries, but Mercury, Uranus and Eris are clustered together in late Aries. That's 6 planets in the sign of "me first." The presence of Eris, a minor planet associated with the goddess of discord who was the catalyst for the Trojan War, adds a disruptive and volatile energy. Fuses are short, tempers can flare and words (or tweets) can wound. With all this red-hot energy there's a temptation to bolt out of the gate and shoot from the hip.  Channel the energy and fight for something, and not against it.
With Mercury (our mind) and Uranus (the divine mind) conjunct in Aries our intellect and our intuition are on fire. This combination can be brilliant, edgy, and innovative. It's a good time to experiment, explore and learn something new. Use this period to brainstorm, research, and get your ducks in a row and then move forward once the retrograde period is over. You don't have to do everything at once.
There's a grand square (a challenging aspect) between Pluto in Capricorn, Jupiter in Libra, Eris, Uranus and Mercury in Aries and the asteroid Vesta in Cancer which can bring about pressure and power struggles. The good thing is that it forces us to slow down. A delay could be helpful at this time. Mars (the ruler of Aries) is in unhurried Taurus and makes an applying trine to powerful Pluto giving us some staying power but we need to be sure where we're going. Saturn in Aries makes a trine to Uranus, Eris and Mercury helping us to anchor ideas and plans.
Don't be distracted by the frenzy of Aries energy and the cardinal planets. The key is to pace yourself and you'll reach your goal in one piece. Ultimately, the real work now is the inner work.
Venus Retrograde and the Power of Ritual
Venus turned retrograde in Aries on March 4. It moves back into Pisces on April 2. It goes direct on April 15 and re-enters Aries on April 28 where it will remain until June 5.
There is a great deal brewing now, but like seeds bursting with energy below the surface, this new life is still young and needs time and space to grow. Don't push it; allow it. Lives seem to be changing in big and little ways; people are moving, careers are in flux, circumstances that once defined us are disappearing, making way for something better and bigger. Don't hold on to what wants to leave; let it go, trust the process, and keep moving in the direction of your dreams.
Magic happens – even during Venus Retrograde
March 25 the Sun and Venus conjunct at 05 degrees of Aries. This is a magical day; a celebration of the goddess and the planet Venus. See where you have 05 Aries in your chart; you may receive a gift, some grace, or a blessing.  Two days later, on March 27 is the Aries New Moon. To me, this whole period around the New Moon has a sacred quality and is an opportunity to do some major releasing and restructuring on deep levels.
Radical self-love, radical self-acceptance and radical self-forgiveness
Rituals and ceremonies are important; they anchor our intentions, formalize our goals and bless new beginnings. Venus rules love and values but the goddess is also associated with self-love, self-worth and what we value in ourselves. This is a special moment, a kind of power time. Create a healing ritual for yourself: make yourself a delicious meal, have a spa treatment, or a go on a wonderful date with someone you love. Create an altar to Venus. Initiate a creative project – even buying a beautiful notebook to jot down ideas, or signing up for a painting workshop, or a dance class sends a positive message to your angels (they will give you a standing ovation!) and to your deepest self. It says, I'm ready, I'm worth it!As for me, on Saturday I'm going to the Russian Baths with a friend to sweat and swim. On Sunday I'm checking into a charming hotel here in the city for a little staycation. Ensconced in this lovely place away from the world I plan to get back to an old (very retro) writing project. When I told my friend, Andrea, what I was doing she said, "That's great because you're betting on yourself. Exactly!
Mercury Retrograde
"It's like my father always said to me, he said, Roseanna Roseannadanna, it's always something. If it's not one thing –it's another. It's always something" –Gilda Radner (SNL)
Venus stations direct on April 15. But on April 9 Mercury turns retrograde (through May 3). There's a message here. Mercury goes retrograde in Taurus (ruled by Venus) so perhaps we need more time to get this whole Venus issue (love, self-worth, finances, and beauty) just right. Mercury drifts back into Aries (April 20), turns direct on May 3, and then reenters Taurus May 15. We get a fresh start, a second wind in May, so hang in there. This can be a wonderful time if we don't label the retrograde periods negative. Embrace it. It buys you some time. It gives you a pause. And don't we need that right now with everything going on in the world?
"Rested, we are ready for the world but not held hostage by it, rested we care again for the right things and the right people in the right way. In rest we reestablish the goals that make us more generous, more courageous, more of an invitation, someone we want to remember, and someone others would want to remember, too." –David Whyte (from his book, Consolations)
Big News
My book, Midlife Is Not A Crisis: Using Astrology to Thrive in the Second Half of Life will be in stores this week.Or you can check it out on Amazon.
WORKSHOP ANNOUNCEMENT
MAY 3, 7pm to 9pm
For Info
I will be conducting a 2-hour workshop at the Edgar Cayce Center of New York
153 West 27th St. (Suite 702)
Reservation Needed. Call 212-691-7690
Workshop Cost $40
MORE INFO
Dear Friends, Enjoy this beautiful time of the year. Get outside. Flood your senses with beauty and nature. Next week is April, the sweetest of months, one in which we celebrate the great holidays of Easter and Passover, a time of miracles and faith renewed. This is the time to open our hearts, release our fears, and join together with family and friends. Everything is waiting for you! All is well, you are loved, Virginia
Rend Your Heart A Blessing for Ash Wednesday
by Jan RichardsonTo receive this blessing,
all you have to do
is let your heart break.
Let it crack open.
Let it fall apart
so that you can see its secret chambers,
the hidden spaces
where you have hesitated
to go.
Your entire life
is here, inscribed whole
upon your heart's walls:
every path taken
or left behind,
every face you turned toward
or turned away,
every word spoken in love
or in rage,
every line of your life
you would prefer to leave
in shadow,
every story that shimmers
with treasures known
and those you have yet
to find.
It could take you days
to wander these rooms.
Forty, at least.
And so let this be
a season for wandering
for trusting the breaking
for tracing the tear
that will return you
to the One who waits
who watches
who works within
the rending
to make your heart
whole.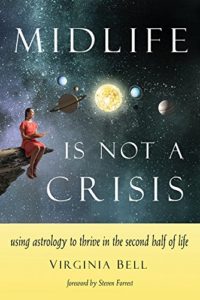 My new book, Midlife is Not a Crisis:
Using Astrology to Thrive in the Second Half of Life
(published by Red Wheel / Weiser) has flown out into the world.
You can order it on Amazon. 
Click here to order.
Thank you!